3- Subscribe to our mailing list to Get More Tips
Google Pings us, when to celebrate Earth day's Birthday. Yes, it is true. Let me explain you why.
I have researched about "earth day" on
Google Adword
. I found an interesting fact; most searched related keyword, was "when is earth day". Now I can say this is only one reason behind my saying: Google pings when to celebrate earth day.
I have another big reason for that. Do you know about Google doodle? What the ****, I am talking about, of course everyone knows.
My next question is "do you remember last year's doodle for Earth day celebration?
22st April 2011 was Earth's 41st birthday
. Google decorated an animated colorful doodle on home page.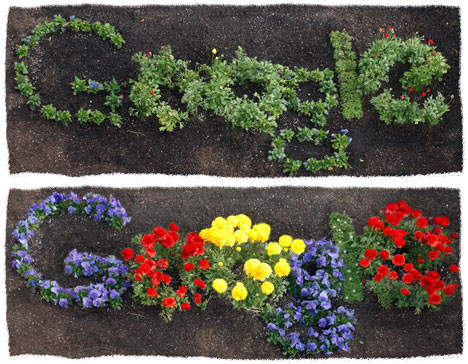 Today's Animated Doodle, 22nd April,2012, on Earth Day
In 1970, Earth day was originated in U.S. Just before 42 years. Earth day is effort to spread awareness about earth and environment. Last year, 175 countries celebrated this day to save earth's environment.
See how Social Media can change Earths Environment ?
PINTEREST PIN FOR EARTH ENVIRONMENT
AND ROLL OF SOCIAL MEDIA
Tomorrow, 22nd April 2012, is 42nd Earth day. Let see what will be Google's green initiative to celebrate Earth day on Google Home page.
Let's have a ride of past: A glimpse to series of "History of Google Earth Day Doodles"
Earth Day Doodle-2004