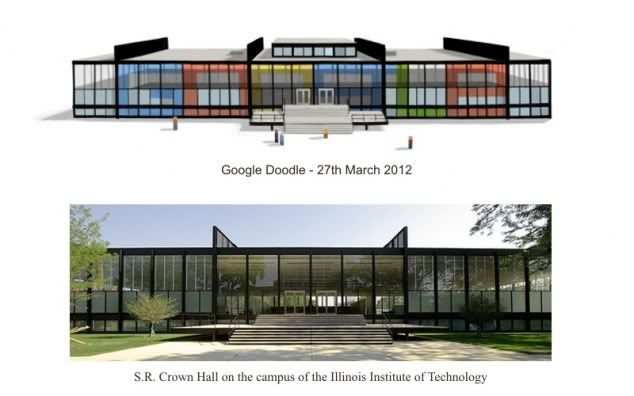 "Architecture starts when you carefully put two bricks together. There it begins." Said by Ludwig Mies van der Rohe (1886-1969).
Today March 27, 2012: Google is honoring, one of the greatest architect of 20th century, Ludwig Mies van der Rohe (1886-1969). We all know well "
How Google tribute famous personalities?
" Yes, Google doodle is the answer. Not only Google celebrating but also everyone who loves architectures and buildings, celebrating Mies's 126th Birthday.
Such as "Mies Society" is going to celebrate his birthday at Chicago. You can
book your ticket
to be a part of it.
Today's Doodle representing an archetypal "Mies Building". This building, shown in doodle, inspired by "Crown Hall" at Illinois Institute of Technology-IIT, architected by Mies in 1956.
Doodle Decoding-
Doodle building has three major blocks at front side.
Every block is consist of two characters of Google.
First Block ►
Blue G
,
Red O
Second Block ►
Yellow O
,
Blue G
Third Block ►
Green L
,
Red E
A small architecture of His, Mies, Life -
By highlighting open space and revealing the industrial materials used in structures, he helped define fresh and modern architecture. Ludwig Mies van der Rohe was born in Aachen, Germany. His father was a master stonemason. Mies, commonly addressed with his surname, moved to Berlin after having trained in stone-carving profession, with his father.
In Berlin, Ludwig Mies van der Rohe worked with an art nouveau architect called Bruno Paul. After working for a long time with Paul, at age of 20 Ludwig Mies van der Rohe got his first direct or independent commission work. For this first independent commission, Mies planned a house for Alois riehl, a philosopher. Mies opened his first office in Berlin, just one year before of his marriage in 1913.
Ludwig Mies van der Rohe called buildings
"Skin and Bones"
. It shows his dedication for architectures and buildings. Ludwig Mies van der Rohe, Greatest architecture of world, died in Chicago, in 1969.
If You are fan of Google doodle then
this collection by Doodlers
will make you smiling .