Are you puzzled after spotting today's (March 14, 2012)
doodle on Google search home
page? If so then read further and discover the reason behind paper folding art type of Google doodle. Once again, panel of doodlers gesturing a history person, Akira Yoshizawa, on his
101st anniversary
.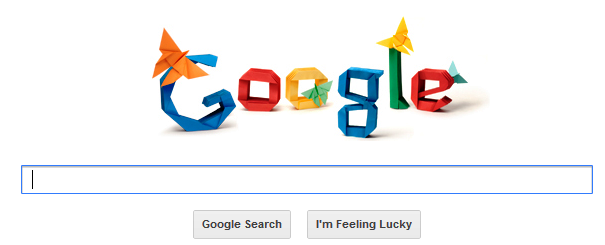 Today's doodle is great example of
modern origami art
. Well-known, modern origami artist,
Robert J. Lang
, designs today's Google origami Paper folding art.
Are you fond of paper folding art? If yes then you must know about Akira Yoshizawa, Known as grandmaster of "
paper folding art
". Paper folding art discovered in Japan. Akira Yoshizawa was master in Modern origami, a Japanese art of paper folding.
About "Grandmaster of Paper Folding art,Akira Yoshizawa"
"Origami" is Japanese word, ori means "folding" and kami means "paper" ("Kami" changes to "gami"due to
sequential voicing
).Now you can be better aware of the meaning of "origami", paper folding.
Traditional Japanese art of paper folding is too old but was broaden outside of Japan in the mid of 1900s. In this art, an artist transforms peace of plan paper in to a sculpture or figure.
History
has many names connected with origami art but most remarkable name is Akira Yoshizawa.
Akira Yoshizawa
was born on
March 14, 1911 in Japan
. He was responsible for teaching geometry to factory workers due to profession as a technical draft man. Akira Yoshizawa used origami as teaching tool for factory workers.
Akira Yoshizawa
was good in origami so he trained workers in geometry with the help of paper folding arts.
(Create Butterfly using Akira Yoshizawa's Technique)
Akira Yoshizawa
created many creative models to applaud sick persons of world war 2nd. Once, Akira Yoshizawa created 12 sign of zodiac with the help of plan piece of paper for a magazine. In 1954, Akira Yoshizawa originated international origami center in Tokyo. Great paper folding artist was a great tragedy person too; he died from pneumonia on his 94th birthday anniversary.
Akira Yoshizawa
endowed origami with a new identity. He rehabilitated
50,000 piece of paper
in to
dragon, zodiac signs, gorillas, graceful cranes
and other models. He mentioned techniques of creating paper arts in his 18 books,based on origami. He never used glue, cutters and extra add-ons during origami art.
Akira Yoshizawa invented
wet- folding techniques
and
Yoshizawa-Randlett System
as milestones in history of paper folding art.
Follow Us For Regular Updates FaceBook , Twitter, Google Plus , Pinterest ,Youtube and Email Subscription